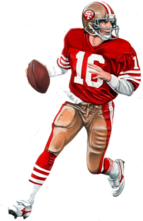 AMT GRIDIRON
I have been a fan of American Football since being introduced to it in 1988, and been a life long San Francisco 49ers fan ever since but you can learn more about how I got introduced to the game here.
The above pages include both my favourite American Football film (Any Given Sunday), my own football league British Football League, the leagues of interest and my visit to the Superbowl Ride. Other leagues will be added on a sporadic basis, with the relaunches of both the USFL and XFL (to be added soon).
I would like to thank The Helmet Project for giving me the inspiration to create the site and its continued updating of new helmets. However, I will only add new helmets and not the many alternative helmets.
GRIDIRON BALLERS
RECENT UPDATES
2022 CHAMPIONSHIPS
BFL's official Championship Game date depends on their NFL's affiliates and will be updated once confirmed.
College Football Playoffs' National Championship is played in January following the close of the NCAA Division I-FBS season which ends in December.
NFL's Super Bowl is played in February following the close of the season which ends in January.
Numbers in brackets represent the individual team's appearances.
ABOUT ME
I was born in South Shields in the north-east of England and raised in Cleadon Village not too far away. Of course, being from Geordie land (as it is known), football has always been the main topic of discussion and by football I mean soccer so there is no confusion. The home of my brother's favourite team Newcastle United ('Magpies') and my cousin's favourite team Sunderland AFC ('Black Cats').
Growing up, I was no good at sport and just never saw the point of it plus I was never given the push by the teachers to excel at it. At school, I would always hang out with my best friends Kevin Hayter as well as later also with Tony Mitchell. I remember playing cricket was one of our favourites because we would either play it at school itself where there was a club house where we would all hang out whilst waiting to bat or once we had played our innings. We would often just play as little as possible just so that we did not have to play cricket. I do remember day dreaming whilst waiting to catch the ball and suddenly a player had hit the ball and it just landed in my hand without even trying. Everybody could not believe that Alex Thomas had won the game and as much as I was happy about that, all I was worried about was my hand which really, really hurt.
During cross country, we would just walk the entire course and laugh at the others who had to impress in front of the teachers like a certain Bobby Newton. Maybe, I was put off sport because of all of the show offs. When we finally go close to the teachers, we would run as fast as we could and then as soon as we were far enough away we would return to walking. I think we must have been 12-13 years old maybe younger so roughly late 80s-early 90s.
Sometimes I did try and excel such as at rugby and I remember one time when I was given the ball and I ran pretty much the full length of the field and was ready to score when the coach told me to pass the ball and it just so happen it was the king of rugby who went on to score and get all the praise. Nothing was said about the fact I had assisted him. It just so happened that this boy played for the county so it was all about raising his profile so if I did not have to play rugby then we had to do cross country and ironically preferred that because we spent a lot of the time just hanging out.
The day I came home with muddy football boots and kit was the day my folks knew that I had played a game but honestly they were glad that I did not because it meant less washing and the worst thing in the world for me was cleaning muddy boots.

My main achievement was playing for Newlands School (now known as Newcastle School for Boys) rugby team against Chorister School in Durham. Secretly, I cannot remember why I was included but nonetheless I was happy because it was an achievement. We barely had any training, had no real idea what we were doing except to score tries and win the game. I remember just trying to prove I could tackle a player which I could but that did not help us win the game.

Final score: 78-0 to Chorister School.

The following day, I sat in assembly hoping to hear about the 'greatest game' ever played but it was scratched from memory except mine.
HOW I BECAME A FAN OF AMERICAN FOOTBALL
Now during all of this sporting fun, I got interested in American Football when it was really huge in the late 1980s, as my cousin introduced me to the game. It was in the 'glory' days when games were broadcast on Channel 4. My cousin wanted me to get into a sport and then southeasternretly follow his favourite soccer team Sunderland AFC. We used to go to Poundstretcher (a discount UK store) and buy pacificks and pacificks of these cardboard NFL shirts attached to a keyring and I think my Dad still has them in the loft and I had loads of them. Since then I have loved American Football for over 30 years.

CANDLESTICK PARK
(SAN FRANCISCO, CA)

OLYMPIC STADIUM


(MONTREAL, PQ)

SKYDOME/ROGERS CENTRE


(TORONTO, ON)
In so doing, I have become a life long fan of the San Francisco 49ers and got the chance to not only visit San Francisco but also visit the 49ers former home of Candlestick Park. In 1997, I was lucky enough to visit Canada and my first exposure to Canadian football teams such as Montreal Alouettes' Olympic Stadium and the Toronto Argonauts' SkyDome, now play at BMO Field. Up to this point, I had not heard of the game but I am an avid follower of it now.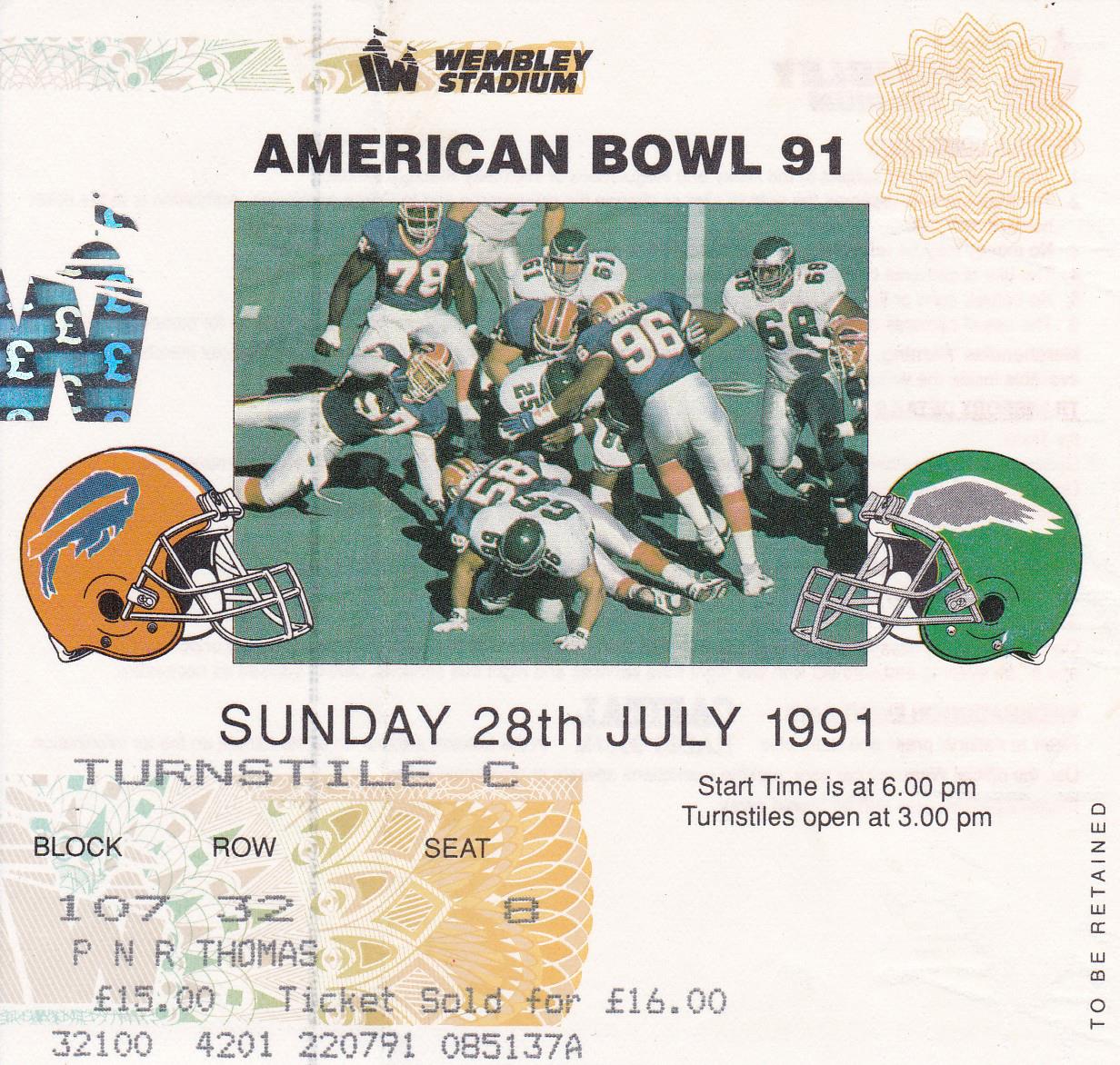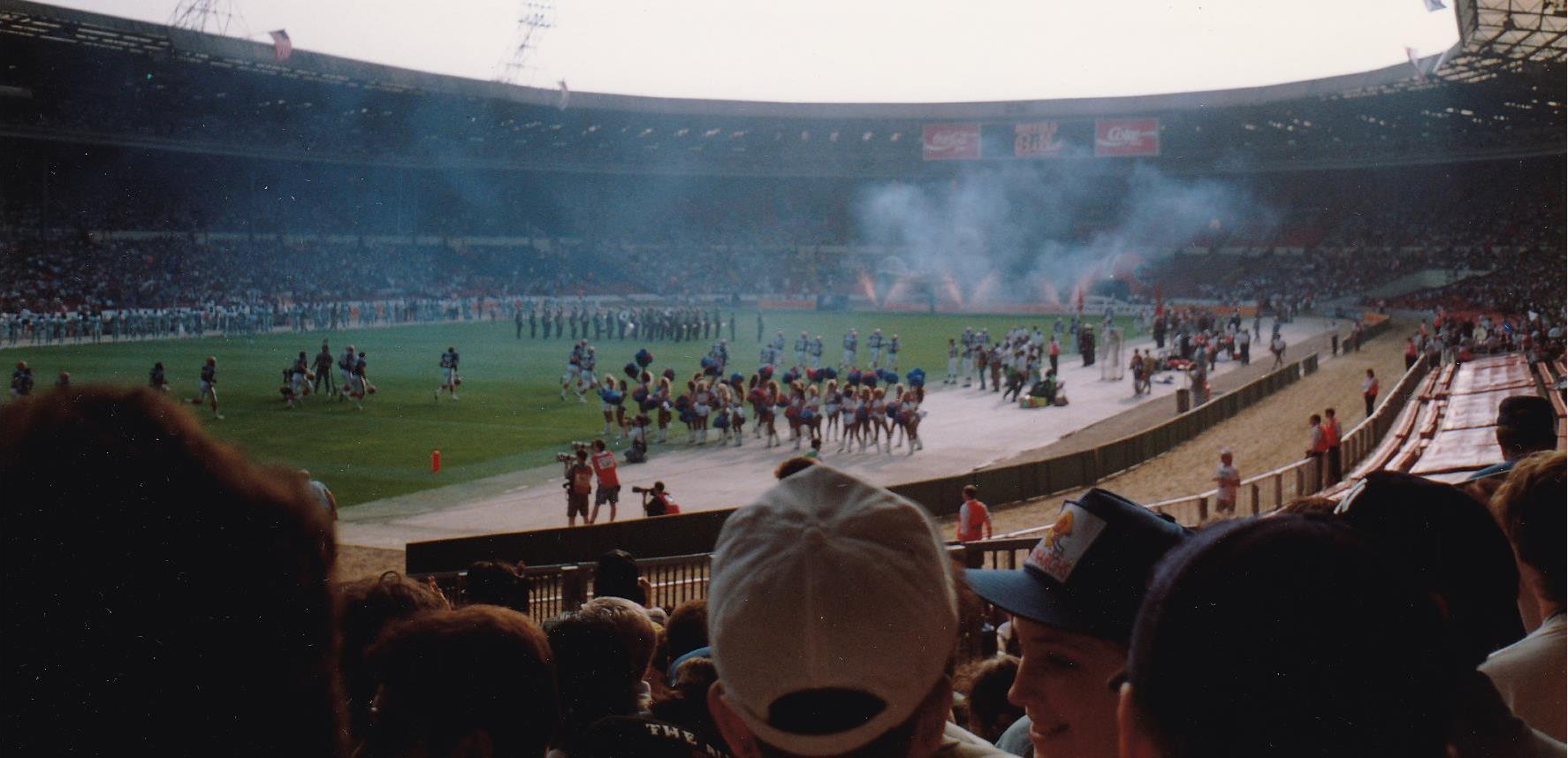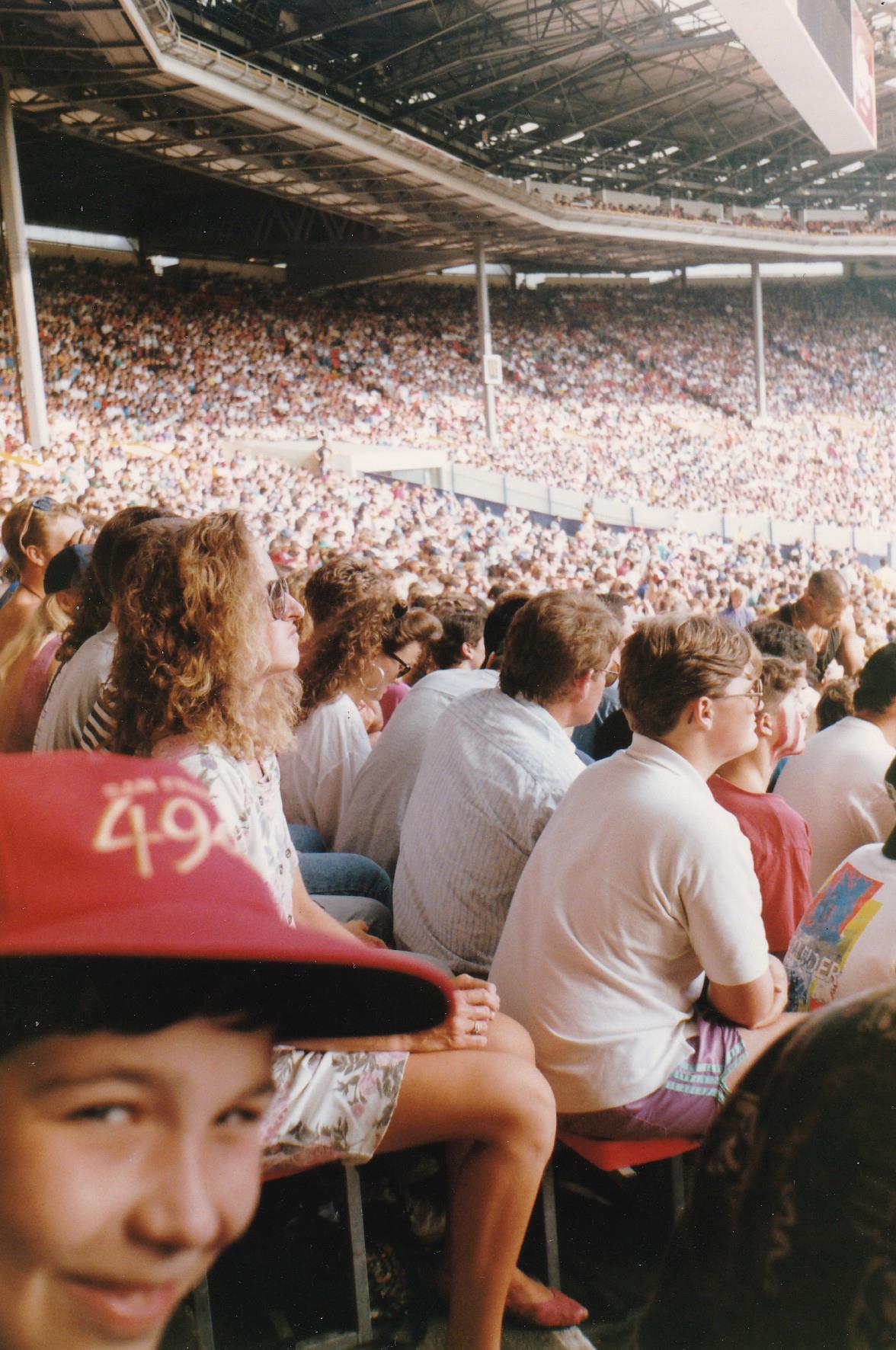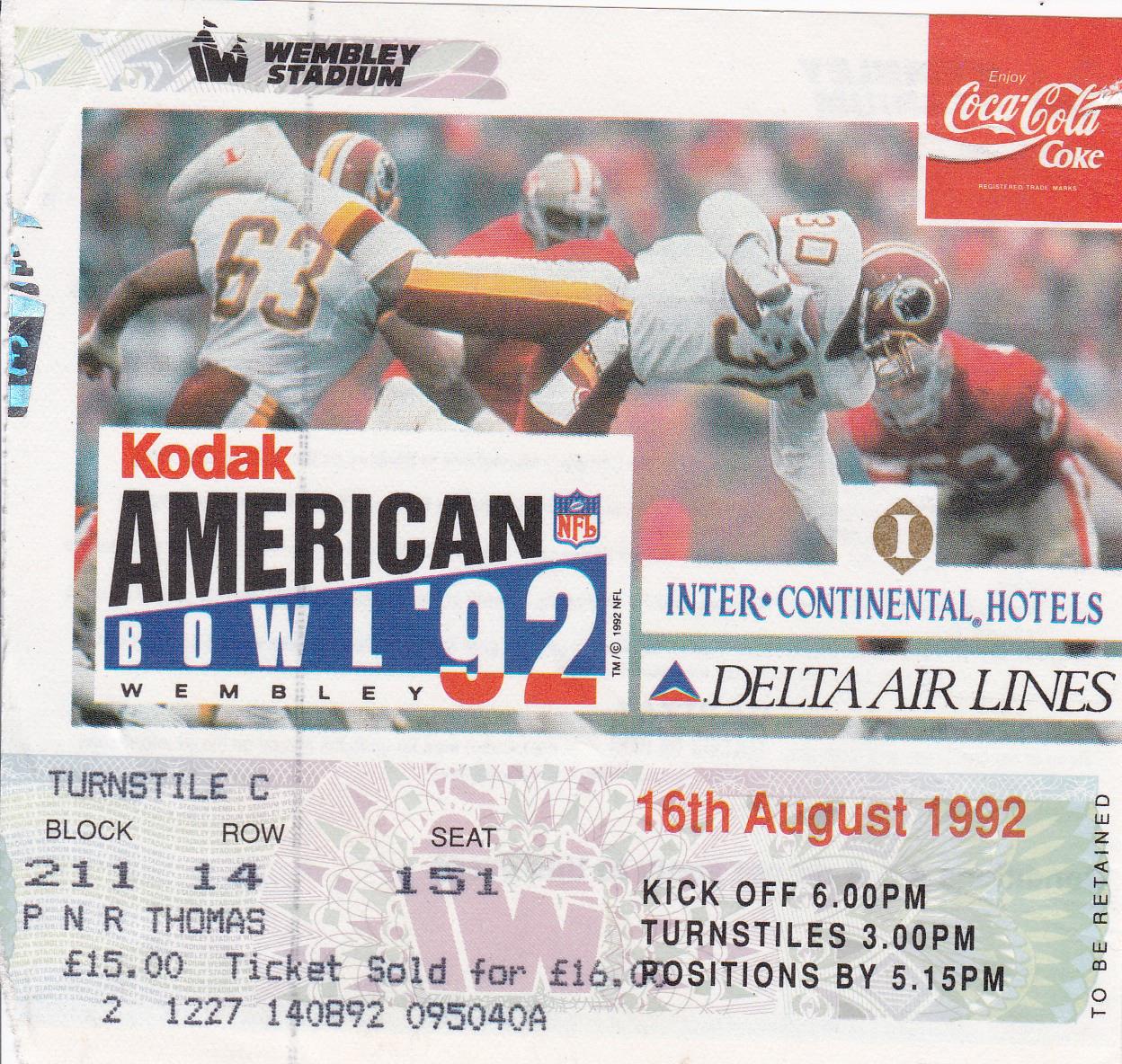 In 1991, I attended my very first game at the old Wembley Stadium called the American Bowl '91 between Buffalo Bills and Philadelphia Eagles. Buffalo Bills won 17-13 and I have supported them since. It was such a great day out and that was in the days when the tube did not even reach Wembley Stadium but thank goodness it is easier to get to games with much improved transport links.
WEMBLEY STADIUM
(LONDON, ENGLAND)
1923-2000

WEMBLEY STADIUM
(LONDON, ENGLAND)
2007-
The following year I saw my first 49ers game at American Bowl '92 when they played Washington Redskins. That was another close affair and the 49ers won 17-15. Since then I have attended the NFL International Series games at the new Wembley Stadium in 2007, 2008, 2013 and 2016.
SUPER BOWL RIDE
I saw this awesome ride at the South Shields Ocean Beach Pleasure Park and, knowing me, I had to take some photos. Can you spot an obvious error on the helmets?